Used Boats: Cruising Yacht:
51
Adverts Displaying:
31
-
40
HISTORY & DESCRIPTION: HORUS 11 was built by Dickies of Bangor to the Trearddur Sailing Club One Design created in 1935. The club, on the Menai Straits near Anglesey was founded in August 1919 and has an established reputation for dinghy racing. In 1935 the club approached nearby boat builders Dickies of Bangor to design a clinker-built sailing dinghy to suit the coastal waters of the Straits. The original HORUS, built in 1927 was wrecked during the war and relaced in 1946 by HORUS 11 for R M O Stanley. In 1947 the boat went on to win the TBSC Novice Cup, which she won again in 194...
read more
Year:
1946
Length:
14'
Location:
Cumbria UK
Price:
£3,950 Tax Exempt

View Details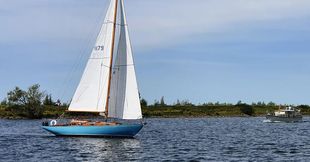 CAPELLA OF BURNHAM – HISTORY & CONSTRUCTION Build: 1960 Yard: Sutton, Great Wakering, UK Design: Alan Buchanan Type: Vashti Class Sloop RORC Class II Materials: Teak / Oak and rock elm frames/ bronze and SS fittings and frames/ lead keel Class: Lloyds 100A1 Winches: Produced by H& M Engineering, Gillingham, Kent Dimensions: LOA 37.2' LWL 26.4' Beam 9.5' Draft 6.2' Displ. 11TM Water tank 120 ltr /ss Diesel tank 60 ltr /ss CAPELLA of BURNHAM was built in 1960 for E W Hawkins (Bill) of H& M Engineering, the hull was built by ...
read more
Year:
1960
Length:
37' 2"
Location:
Netherlands Netherlands
Price:
£45,000 Tax Not Paid

View Details
BENTE DORTE was built in Skagen, Denmark in 1926 to the traditional Danish Haikutter style dating from circa 1900. These were principally motorised fishing vessels the larger of which carried a ketch rig. By 1940 over 6,000 examples had been built for North Sea fishing. Today a relatively small number survive. BENTE DORTE was discovered in Sjotorp, Sweden and fully restored with a tall-ship style rig and retaining her traditional exterior look whilst sympathetically fitting out the interior for comfortable living with modern conveniences, safety equipment and machinery. In 2008 BENTE DORTE ...
read more
Year:
1926
Length:
83'
Location:
Treviso Italy
Price:
£89,500 Tax Not Paid

View Details
HISTORY & DESCRIPTION: BLUE LEOPARD is a legendary design from the board of the talented naval architect Jack Laurent Giles, who in the early 1960s was asked to produce a design, merging both a motor and sailing yacht equally. With a light displacement, BLUE LEOPARD is easily driven with a sail area ratio comparable with the famous J-Class racing yachts. In 1962 Desmond Molins of Eaton Square, London chose William Osborne of Littlehampton to build BLUE LEOPARD to the same exacting standards as their lifeboats with a strong but lightweight hull. BLUE LEOPARD was a modern design for her da...
read more
Year:
1962
Length:
112'
Location:
Valletta Malta
Price:
£1,095,000 Tax Paid

View Details
FLORA of GREENOCK – HISTORY & CONSTRUCTION: Twin-Screw Motor Yacht Builder: Silvers of Rosneath 1936 Designer: John Bain Length: 65 ft 60.9 ft wl Beam: 14 ft 6 in Draft: 6 ft 6 in 50TM Berth: 6 guests in 3 cabins Construction: Pitch Pine planking on heavy oak frames with teak superstructure Motive power: 2X Gardner 6LW 96 HP diesel Cruising Speed: 8,5 knots Official Little ship from WW2 Built by Silvers of Rosneath, Scotland in 1936 to the rare Brown Owl Class 11 design by in-house designer and yard director John Bain, for William Hood of Dundee and launched as R...
read more
Year:
1936
Length:
65'
Location:
Copenhagen Denmark
Price:
£170,000 Tax Not Paid

View Details
HISTORY & DESCRIPTION: Although little is known of her early history, SUNSTAR is believed to have been built as an open aft cockpit twin-screw motor yacht with flat transom, and then later extended to a canoe type stern with enclosed stateroom aft of wheelhouse sometime in the late 1920s. Her engines were originally twin-cylinder Hyland petrol. SUNSTAR was re-engined in the 1940s with two Brit four-cylinder petrol engines, later changed to twin BMC 1.5 diesel engines in 1963. SUNSTAR was built in 1927 by the well-know Windermere boatbuilders Borwick & Sons. She was first re...
read more
Year:
1927
Length:
37'
Location:
Warwickshire UK
Price:
£12,950 Tax Exempt

View Details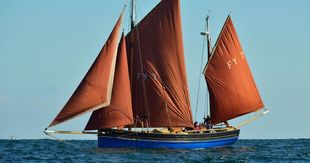 HISTORY & DESCRIPTION: OUR DADDY was built in Looe, Cornwall in 1921 by local boat builder Dick Pearce. She was commissioned by the Pengelly family and built to join their fleet of fishing boats that included "Our Boys" and "Our Girls" hence the name "Our Daddy". A 45ft Standing Lugger, she was the last lugger to be built to sailing lines and to work out of Looe, Cornwall. Originally skippered by Alfred John Pengelly and more recently his son, she fished for some 65 years in the pilchard, mackerel and shark fishing industries. OUR DADDY is one of ...
read more
Year:
1921
Length:
45'
Location:
Devon UK
Price:
£139,950 Tax Exempt

View Details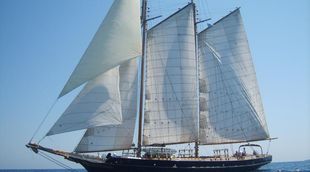 Overall Length: 80ft (24.36m) :: Waterline: 67ft (20.29m) :: Beam: 21ft 6ins (6.51m) :: Draught: 6ft 9ins (2.05m) :: Displacement: 57.18 Gross Tonnage Engine: 350hp Cummins Diesel :: Designer: Daniel Bombigher :: Builder: Metur Yachts :: Location: Turkey Sail: Gaff Schooner Rig :: Berths: Six Guests plus Crew :: Year: 1995/2012 Broker's Details: HISTORY & DESCRIPTION: DREAM was built by Metur Yachts of Turkey to the Daniel Bombigher 'Schpoundtz' design. Built in 1995 and extensively re-fitted in 2012 with new teak laid decks, new wiring and plumbing, all new...
read more
Year:
1995
Length:
90'
Location:
Aydin Turkey
Price:
£430,000 Tax Not Paid

View Details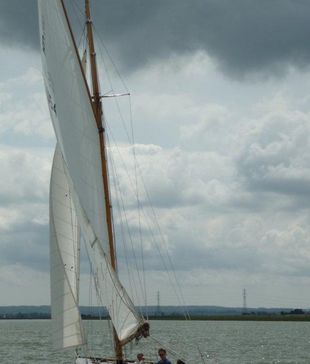 Overall Length: 27ft 6ins :: Waterline: 23ft 5ins :: Beam: 7ft :: Draught: 6ft :: Displacement: not known Engine: 8hp Vire Auxilliary:: Designer: W Starling Burgess:: Builder: Herreschoff Manufacturing Co. USA:: Location: East Coast Sail: Optional Gaff Rig / Marconi Rig :: Berths: Two / Three Berths :: Year: 1921 :: Price: £25,000 HISTORY & DESCRIPTION: Sheila was the first boat built at the Herreshoff Manufacturing Company that wasn't designed by Capt. Nat Herreshoff. Starling Burgess, an aircraft designer and close friend of Herreshoff, designed Sheila for Pau...
read more
Year:
1921
Length:
27' 6"
Location:
Kent UK
Price:
£25,000 Tax Exempt

View Details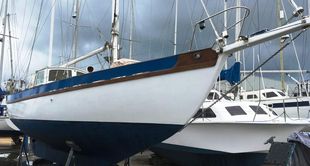 HISTORY & DESCRIPTION: Maurice Griffiths was a great influence in post-war yachting and as editor of Yachting Monthly for many years, he persuaded numerous people to take up yachting at that time. In his designs, he took much of his inspiration from the East Coast working boats built for those shoal waters but was also influenced by some American designs. Maurice is certainly most well known for his smaller shoal draft designs which appealed to the growing number of new yachtsmen at the time. His designs were built in quite large numbers by the small East Coast boatyards and several...
read more
Year:
1971
Length:
38' 6"
Location:
Dorset UK
Price:
£28,500 Tax Exempt

View Details